I thought I should share this article from CNN with you of a great CEO. He is truly an inspiration. AL
Posted: 905 GMT
You don't really notice Haruka Nishimatsu when he passes you in the hall. A middle-aged man in a suit, he blends into the working crowd at Japan Airline's headquarters in Tokyo.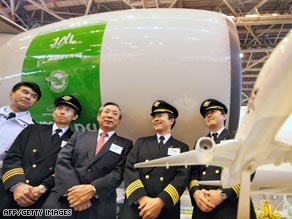 JAL President Haruka Nishimatsu, center, shares a light moment in front of a jet engine.
"Why should I stick out?" Nishimatsu says out loud to me.
"Well, you are the CEO and Chairman of this multi-billion dollar international airline," I replied.
"So?" says Nishimatsu. "That doesn't make me special."
That philosophy, that he's just like everyone else trying to make it through Japan's recession, is why he takes the city bus to work, eats in the cafeteria with his employees and strolls through the operations room at the airport. When the company looked to cut costs, he eliminated every single expensive perk of his job. He took away the corner office and chauffeur. Then he slashed his pay dramatically, so that in 2007 he made less than his pilots.
JAL can use every penny it saves. This fiscal year, the airline expects to lose $34 million dollars after passenger traffic fell 20 percent and cargo loads fell 40 percent. It's a global company that lives and dies by the direction of the global consumer and economy.
"I understand there are different conditions in terms of the economy for each country, but I think these economic issues need to be solved globally, rather than solved country by country," says Nishimatsu. "I hope the G20 will give a clear direction to the global economy."
Nishimatsu also believes the solution must begin with the financial institutions and continue to tighter regulations.
But he points to corporate culture as the long-term solution. Like the AIG bonuses, Nishimatsu says, "shocked" him. "It's like they're from another planet," he says.
A lesson of this recession, he hopes, will be that corporations don't solely pursue profit and instead focus on the long-term financial health of the company and employ people and help society. Together with shared sacrifice, he believes, the global economy will recover — but only if everyone from the CEO to the entry-level employee works together.